you are the project
We want to get started on working with YOU. Our Spiritual Gift workshop will help you discover what your spiritual gifts are. Also, we'll help by inspiring you to see how you can put them into practice in creative ways. And ultimately our hope is that it will lead you to experience God in a real way through a lifestyle of serving the Lord.
1. Schedule a workshop
Whether you are looking to equip your church, leadership or youth, contact us to schedule a workshop weekend.
We also love to do personal project workshop settings. Maybe you are looking to start a ministry yourself or simply want to know how you can purposfully serve the Lord in your community individually - contact us and we'll book some time together.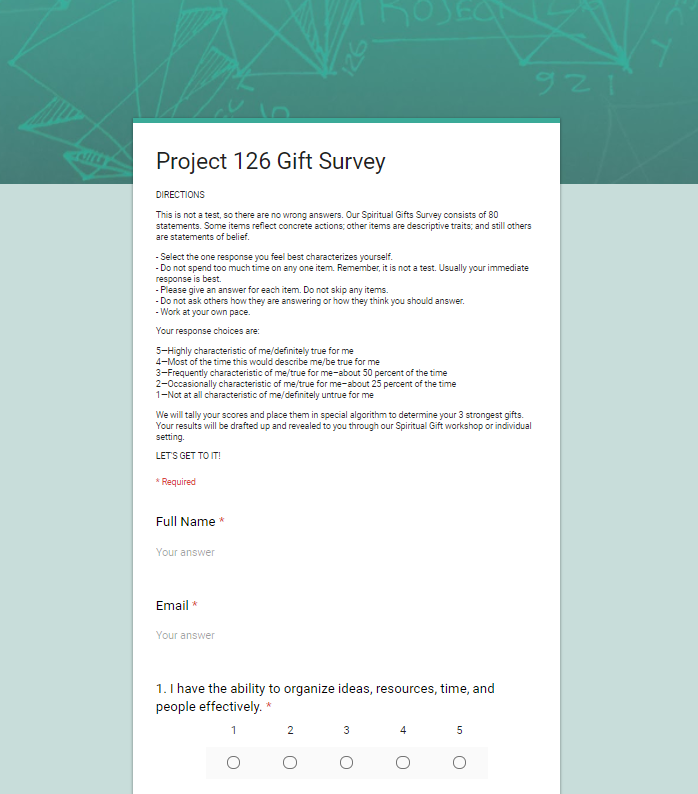 2. TAKE THE SURVEY
Our Gift Survey has been built to determine what your strengths are by answering (honestly) 80 different statements, ranging from actions, descriptive traits and statements of belief.
This is the critical part of our Spiritual Gifts Workshop!
Disclaimer: Although the gift survey program and algorithm is unique to Project 126, we've collected the statements from various sources.
3. Get the results
The results are tallied and loaded through our gifts algorithm to determine your 3 strongest gifts. Your results will be drafted up and revealed to you during our Spiritual Gift workshop or individual setting.
4. Apply to Experience
During our workshops or individual settings, we will not tell you how to apply your gifts - but simply create the environment for the Spirit to fill you with inspiration. With ministry experiences, actual community service opportunities and ministry leads - we are sure that your gift will find a fitting practice which will lead to an amazing experience with the Lord and motivation to inspire others.
DISCOVER | PRACTICE | EXPERIENCE